Name : No Hands SEO

Version : 2.35.0.0

OS : Windows

Type : Indexes | Searches | Posts | Checks Links | Submits RSS Feeds

Price : $77

Homepage : SalePage

!!! The first truly automated website promotion tool has just gotten a whole lot better !!!
No Hands SEO is not just another "automated" tool that requires hours of setup or baby sitting to use or costs an arm and a leg every month.
No Hands SEO is the only tool equipped to take your websites from not indexed to ranking on total auto pilot.
With just a few minutes setup you can have your website indexed, backlink all inner pages, promote RSS feeds, submit sitemaps, create tiered profiles and much more on absolute auto-pilot.
The best thing about No Hands SEO is that once you have your profiles input all you need to do is hit the start button and you can leave it running indefinitely. In the background it will constantly search for new targets and post backlinks to more than 80 platforms from a variety of platform types, getting your websites indexed incredibly quickly and increasing visitors to your website. On top of all of this automation you get automatic link checking and pinging / indexing to ensure all of the created link juice is maximised.
Features
Very simple setup : Just three inputs to get started

Multi-Threaded : Super fast searching and posting

Generate PR links : You can set the quality of links you want to build

Automatically Pings Links : Whenever a new link is created it is pinged automatically

Promotes Inner Pages : NHSEO promotes your whole website not just the homepage

Promote Unlimited Webpages : You can promote as many pages as you like at once

Fast Website Indexing : Get any website indexed within hours

Link Indexer Support : Supports multiple indexing services to get your new links indexed fast

Integrate Content Spinners : Support all major content rewriters for quick comment writing

Insane amount of link platforms : Post links to lots of different link platforms for unparalleled link variety.

Extensive Proxy support : NHSEO has full support for private and public proxies

Proxy Harvester : If you do not have your own proxies NHSEO will find them for you.

Lifetime Updates : NHSEO is updated very regularly for free

Built in Text Rewriter App : Makes it easy to make any content spinnable and see the output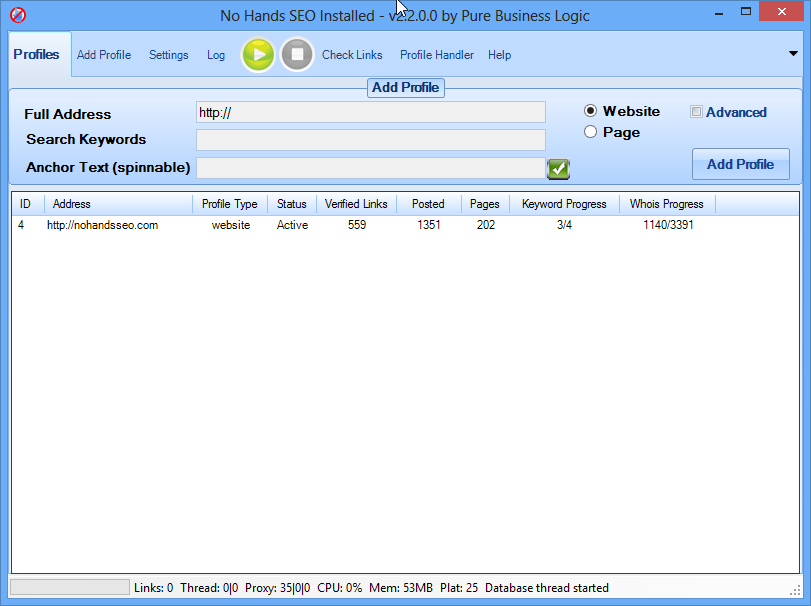 Warning! You are not allowed to view this text.
Tags : No Hands SEO