Name : SEO Ping Master

Version : 1.51 Pro

OS : Windows

Type : Backlink index Tools

Price : $59

Homepage : SalePage

SEO Ping Master is the ultimate tool that every SEO specialist don't want to give you! ... ping and submit your site to more than 12800 services (more sites coming soon)
Features
ping and submit your site to more than 12800 services (more sites coming soon)

the db contains: search engines / EDU & GOV sites / social media & bookmarking sites / general websites

automatic db updates

automatic software updates

multithreading (up to 20 thread) (*)

fully portable: to use the software just unzip the archive and execute the exe!

report created automatically (csv format)

(*) by default the software use 4 threads. To increment the threads add this parameter in the file SEO_Ping_Master.ini
thread_max=xx
where xx is the number of threads (max 20!)
Requirements:
- Framework .NET 3.5
---- WHAT IS A PING? ----
Ping services notify search engines (like Google, Bing, Yahoo), blog and RSS directories that your site / blog has been updated.
This increase the indexing speed of your site.
---- THIS SOFTWARE CREATE ALSO BACKLINKS? ----
Yes, some services present in the db create also a backlink to your site.
---- HOW MUCH I MUST WAIT BEFORE I SEE SOME BENEFIT? ----
It's not simple to reply to this question :) some sites have reported an increment in traffic after some weeks, others after a month.
ScreenShot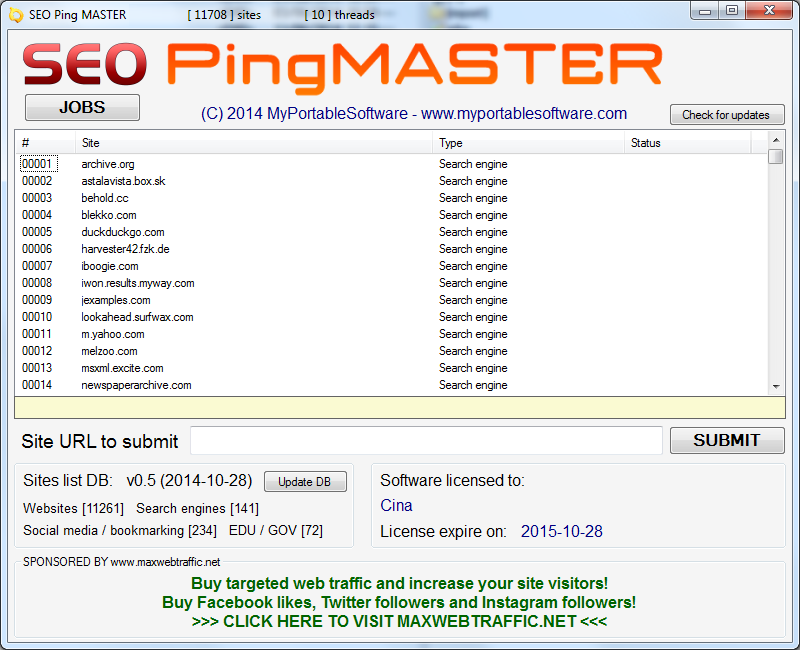 Warning! You are not allowed to view this text.
Tags : SEO Ping Master