Name : SMSGadget For Android
Version :  1.4
OS :  Windows
Type :  Bulk SMS Sender
Price : $40 
Homepage :  SalePage
SMSGadget For Android is Bulk SMS text messaging software for business to send marketing & advertising SMS messages to customers with mobile phone or GSM Modem from PC.
SMSGadget Bulk SMS Sender
To promote your product, you need to send SMS in bulk. With SMSGadget you can send thousands of SMS with single click. SMS Gadget has unique features such as unlimited groups creation, unlimited contacts, and import, export facility. With SMSGadget (Bulk SMS Sender), messages like special offers, promotion, reminder and statement are well suited to be delivered time to time. There is no huge investment and hidden cost in using SMSGadget E-Marketer. Just use your existing computer and mobile phone, with connection options of USB data cable, Bluetooth or Infra red, you are equipped with a powerful marketing weapon.
Features
Intuitive and modern look and feel, with ease of use.
Compatible with most of the Android phones.
SMS composer with Long SMS, Flash SMS and custom field support and SMS can be Send in different languages.
Skip duplicate phone number entries.
Sends standard SMS or notifications as per your need.
Three Custom fields for each contact to generate unique SMS for every contact.
No internet connection is required to send SMS.
Send SMS to individuals or list of phone numbers.
Import contact list or content from text, CSV or Excel file saved on PC.
Export contacts in txt and CSV format.
Easiest way to Load Recipient Phone Number.
Option to skip duplicate number entries.
Save sent items for future reference.
Advance delayed delivery option while sending SMS.
Save send items for future reference.
Supports multiple Android phones.
Error logging and reporting from within the SMSGadget for fast feedback.
Can create project files and opened later for different "Marketing Campaigns". Each project consists of "Devices", "Contacts", "Inbox", "Outbox" and "Sent"



System Requirements:
Android Mobile (Cell) Phone connected to local network through WiFi
Limitations:
Android OS has 30 SMS limit per 30 minutes (Previous versions has 100 SMS per hour limit) and you cannot send more than this limit. However you can unlock the SMS Limit with any SMS Limit Unlocker software. For example:
Note:"SMS Limit Unlock" software is free but use it on your own risk because we are not the vendor of this software.
If you are technical then please follow the link: How to increase SMS Limit on Android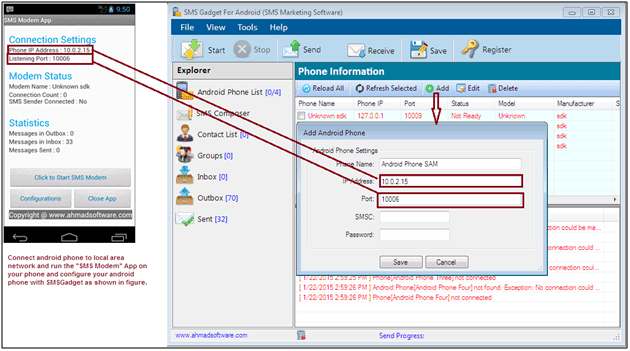 Warning! You are not allowed to view this text.
Tags : SMSGadget For Android, SMSGadget