Name : InSpyder Power Search

Version : 5.1.3

OS : Windows

Type : Website Scraper

Price : $49

Homepage : SalePage

Power Search 5 - Powerful website scraping and searching made simple.
Find the Needle in your Haystack
Search and scrape virtually any website!Power Search from Inspyder is the easiest way to search and scrape data from virtually any website. Crawl websites to look for specific words and phrases, or use Power Search to scrape and save data using our innovative point-and-click interface.
Power Search enables you to quickly search a website for content that is not normally indexed by search engines. Searching within a website's HTML code, Power Search provides powerful query and scraping tools to help to locate and scape the data you need.
Features
Point-and-Click Web Scraping

Deep HTML Searching

Regular Expression Support

Export to CSV and XML

Unlimited Project Configurations

Unlimited Site Size

Scheduled Crawling

Command Line Interface

Wildcard Search Tutorial

Find Email Addresses on a Website

Find Hidden HTML Comments

Extract Alt Text from all Images

Capture Page Titles

Find Missing Page Titles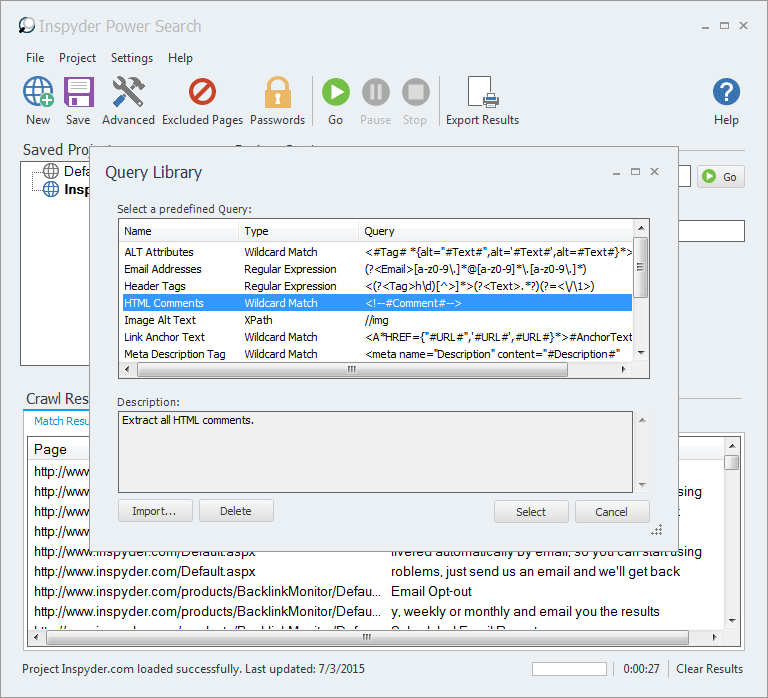 Warning! You are not allowed to view this text.
Tags : Inspyder Power Search