Name : Mobile Lead Scout

Version : 1.0

OS : Windows

Type : Mobile Lead Marketing

Price : $30

Homepage : SalePage

Hot New Mobile Marketing Lead Generation Software Uncovers MILLIONS Of Mobile Leads That NEED YOU To Fix Their Website's #1 Problem Right Now, A Problem SO MASSIVE That It Is Cutting Into These Local Businesses' Mobile Rankings, Sales, Revenues, Profits, Opt-Ins And More!
... You Have NEVER Seen Or Used A GAME-CHANGING Mobile Marketing Lead Generation Software Like This Before... Finding You The HOTTEST Mobile Leads For The BIGGEST Mobile Marketing Opportunity For 2016, Making It A MUST-HAVE For ALL Local Marketers...
Features
INSTANTLY Generates HOT, Laser-Targeted Prospects

to provide you our unique and extremely powerful,

yet so simple and highly-effective, offline mobile marketing lead generation software

that will give you the ability to instantly find HIGH-PAYING client prospects on-demand,

all of whom desperately need you to solve their overwhelmingly BIGGEST problem

with their current website and are willing to pay you a pretty penny to immediately help them.

developed a virtual fool-proof lead generation tool for locating red-hot prospective clients for you

from anywhere in the world, regardless of where you are located.

With our never-before-revealed local mobile marketing lead generation software,

you will INSTANTLY find up to millions of HIGHLY-TARGETED local business leads

who desperately NEED you help fixing a HUGE issue with their website

AND will be willing to pay you the BIG BUCKS for your expertise and services,

which you can either complete yourself or, if you prefer, outsource to others,

all the while creating and generating yourself virtual autopilot income.

Regardless if you're a newbie to local marketing or a seasoned veteran professional,

you will be given the rarified opportunity to use our UNDERGROUND local mobile marketing lead generation software

to find new hot leads on-demand

In other words, we come bearing a true gift, a NEEDLE-IN-THE-PROVERBIAL-HAYSTACK in Internet marketing today

A local marketing lead generation software that works like gangbusters

and you can use start using today to find new prospective clients by the buckets full anytime you want

With Mobile Lead Scout,

you FINALLY have a REAL opportunity to find REAL prospective clients

that can take your business to unchartered territory

and new heights faster than Ricky Bobby can say "I want to go FAST!"

"Mobile Lead Scout Is SO Brain-Dead Easy To Use That Anyone,

And We Mean ANYONE, Can Start Using It Today To Find Red-Hot Local Business Prospects

In As Little As A Few Minutes From The Time You're Reading This Headline!"

While you might be thinking these guys are full of it,

the reality is that our lead generation software flat-out works

and will uncover your first potential client lead in as little as few minutes (or less)

when you simply run your first lead generation search with Mobile Lead Scout.

After Trying Our Mobile Lead Scout Software,

You Will IMMEDIATELY STOP Wasting Time And Money

With All the Other Inferior Local Lead Generation Softwares That Simply Do Not Work.

Use Our Software To Locate Potential High-Paying Clients

That Can't Wait To Pay You To Fix Their HUGE Website Problem

That Is Currently Costing Them Up To THOUSANDS UPON THOUSANDS Of Dollars In Lost Income Potential!

By using Mobile Lead Scout, you will have the opportunity to achieve the same success

Plus, you should be able to do it in a lot less time than it took us as you instantly benefit from our software,

which was only developed after years of our own struggles, mistakes and lessons learned.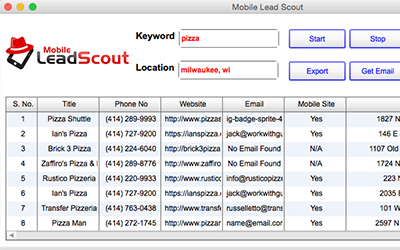 Warning! You are not allowed to view this text.
Tags : Mobile Lead Scout