Name : Fast Email Sender

Version : 5.1.0

OS : Windows

Type : Bulk Mail Sender

Price : $49

Homepage : SalePage

Fast Email Sender is a completely unique and innovative bulk email sender that makes sending mass mailing a breeze. It's the first and one of newsletter software that allows you to send unlimited emails with unlimited number of recipients. You can send text and HTML emails, along with attachments, templates and multiple connections. Try for free or buy it now (no recurring fees) the fastest email software for personal or business use.
Features
Send newsletters : Create email campaigns and send profesional bulk email newsletters.

Verify email addresses : Check email addresses for correctness and duplicates.

Save money : Pay one-time fee for lifetime full license without recurring fees.

Unsubscribe button : Include mandatory anti-spam unsubscribe link.

Multiple FROM accounts : Manage multiple businesses with different dedicated accounts.

Manage recipient groups : Manage your recipients, add, edit, remove recipients addresses and extra fields.

SMTP & Direct DNS Sending methods : If you don't have an SMTP server, just use direct-send. Usefull for Windows Server™ installations too.

Ready settings for SMTP providers : Settings and limits are automatically handled by software to ensure maximum delivery in minimum time.

Group multiple servers into one batch : Send packs of emails on separate servers, sequentially, automatically, allowing you to send 10000s of emails on free services.

Import many email lists formats : Imports CSV, TXT, XLS formats, with multiple columns.

Integrated newsletter templates : Choose from one of the many integrated email templates or bring you own html code, images and styles.

WYSIWYG newsletter editor : Light and friendly editor, to quickly write an email body with standard word-processor formatting including special characters.

Dynamic fields in email body : Personalize emails with dynamic fields, to make your clients feel in the center of attention.

Live sending statistics : Watch real-time counters of how many emails you've sent, how many are left and how many have failed.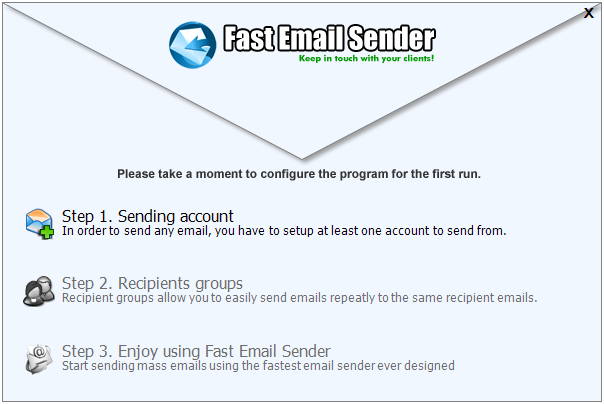 Warning! You are not allowed to view this text.
Tags : Fast Email Sender