Name : RJ-Capture

Version : 4.3.50

OS : Windows

Type : yellow pages Scraper

Price : $300

Homepage : SalePage

Capture the yellow pages in Europe, United States and Canada.
RJ-Capture is an extractor software of yellowpages.ca (CANADA),superpages.com (USA),pagesjaunes.fr (France), pagespro.com (France), pagesdor.be (Belgium), local.ch (Swiss), paginasamarillas.es (Spain), paginegialle.it (Italy). RJ-Capture capture and export easyly adress, mail, tel, fax, web sites to several file type with activity and one or lot of region. RJ-Capture is useful for a mailing, phoning, fax-mailing or an emailing advertising campaign.
Features
Names of companies

Complete Mailing Addresses (Street - Postal Code - City)

Phone Numbers (Fixed - Mobile - With special tarification...)

Fax numbers

Email Addresses

Business Websites

Business activities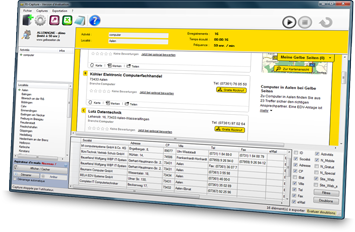 Warning! You are not allowed to view this text.
Tags : RJ-Capture