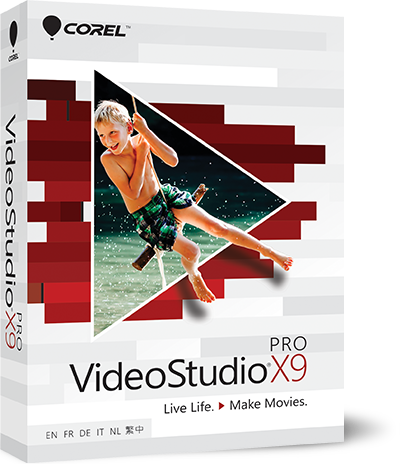 Name : Corel VideoStudio Ultimate

Version : 2020 v23.3.0.646

OS : Windows

Type : Video Creator

Price : $54

Homepage : SalePage

From movies in minutes to advanced timeline editing, VideoStudio Pro X9.5 has something for every video editor. Tell your story—your way—with the new Multi-Camera Editor, hundreds of creative effects, transitions and titles, and pro-quality audio tools all in one easy-to-use video editing software.
Features
Unlimited Creativity in Your Video Editing
Creative overlays : Adjust how overlay objects blend with the background for a variety of effects, and create unique semi-transparent and color blend results. Use a video mask to hide or reveal different parts of your video for interesting effects or title sequences.

Freeze frame : Whether it's a beautiful smile, your child scoring a goal or stunning scenery, sometimes you want to add extra impact by temporarily stopping the action to focus on a single frame. The Freeze Frame feature makes it easy to select the frame and set the duration to get the effect you want.

Stop motion animation : Create full-HD stop motion videos using your DSLR camera. Bring the processing power and unique lens capabilities of your DSLR to life and create stop motion animation your audience won't forget.

Variable speed : Evoke drama by playing with speed, use slow motion or speed things up for unique time-lapse effects. With the Variable Speed controls, it's easy to alter the speed in any part of your video without having to edit multiple video clips.

Easy fades and transitions : Get the right look for your production with drag-and-drop transitions that deliver easy fades, dissolves, wipes and many other effects.

NewBlue FX Video Essentials II : Add incredible special effects with bonus tools from industry leader, NewBlue. Video Essentials II offers over 100 presets in 10 plugins to correct lens distortion, create vignettes, enhance and adjust color, and much more.

NewBlue TitlerEX : Wow your audience with dynamic 2D and 3D titles, and easily add captions and rolling credits to your movies. (nVidia graphics card or Intel HD3000 and above required for NewBlue TitlerEX.)

Advanced customizable motion controls : Customize the movement of graphics, titles, objects and video clips. It's the perfect way to create dynamic videos featuring picture-in-picture and other pro-quality effects. Plus, save your customizable motion to a Path library for quick and easy reuse.

Efficient & Powerful Editing Software
Multi-Camera Video Editor : Tell your story from every angle with the Multi-Camera Video Editor. Easily trim and edit footage from multiple cameras and sync clips with Audio syncing, Markers, shooting date and time, or manually. Supports 6 angles in Ultimate or 4 angles in Pro.

Normalize Audio : Editing multiple video clips may cause inconsistent audio levels. With Normalize Audio, it's easy to balance the volume of selected clips or the entire track to keep audio clear and consistent.

Audio Ducking : Fine-tune the lead in/out time for Audio Ducking, the feature that lowers background sound to make narration and dialog clear. You can now customize the Ducking Level and Sensitivity.

Motion Tracking : Now you can track up to 4 points in your video. Add moving text or graphics to your video, or apply a mosaic blur to faces, logos or license plates that you want to obscure.

Subtitle Editor : Reduce the time and effort required to add subtitles to your video. The Subtitle Editor automatically detects speech in your video, providing an instant, editable list of potential subtitle moments, making it fast and easy to add subtitles!

Multi-Trim : Easily extract multiple segments from any video clip. The AccuCut timeline makes it fast and simple to zoom in precisely on the exact frame that needs to be trimmed. Set the Mark-in and Mark-out buttons on the segments you wish to keep, and re-adjust or edit clips in the Timeline later.

Screen Capture : Bonus Software: Recording directly from your screen is a great way to add custom content to presentations, demos or training videos. With Screen Capture software, you can easily capture both system audio and microphone sound.

Media Library management : Quickly backup and restore your custom libraries when you upgrade video editing software or computers. Easily import your existing organized media folders into the intuitive Media Library. Save and re-use video projects, customized Filters or transitions in future projects.

Timeline Audio/Video Editing : VideoStudio works hard to keep editing videos easy. Now you can easily add or delete tracks directly in the Timeline while you're editing just by right-clicking.

FastFlick template creation : Now you can create your own FastFlick templates for use in both VideoStudio's editing software and FastFlick.

Thumbnail Ticking : Thumbnails in the Library show a checkmak when a clip has been used in the Timeline to help you avoid reusing the same footage.

Save your Favorites : Build your favorites folder by marking your preferred effects and transitions. My Favorites has been extended to let you save and re-use your customized filters settings too.

Perfect Video Software for all Skill Levels
FastFlick™ easy slideshows and videos : Bonus Software: Make movies and slideshows in just 3 steps. Select a template, add your media and share your movie to Facebook, YouTube, Flickr, Vimeo. The Adjust tool lets you choose the part of your photo or video you want to feature. Save your project to a variety of video formats.

Instant Projects : Fast-track movie creation with these pre-assembled movie projects. Simply exchange the placeholder clips and photos with your own media and you're done. Combine multiple templates in one project if you wish.

Slideshows that impress : Experiment and add a unique look to your videos and photo slideshows with your favorite transition effects. Select only the transition effects you want and add them to the Random Effects category.

Easy 1-2-3 Editing Software : Get into the flow of video editing with the Capture, Edit and Share workspace that guide you through your project. Or rearrange the customizable workspace to suit your needs.

VideoStudio MyDVD : Bonus Software: Experience a new and easier way to turn your videos and photos into professional-looking multimedia disc projects, complete with image-rich menus and music. Get a stylish look with 50 themed templates with menus, sub-menus and chapters.

Integrated Audio Library : No movie is complete without a soundtrack. The audio library has hundreds of royalty-free audio tracks and sounds to choose from—they even automatically adjust to fit the length of your movies! Or import your own audio files and add your favorite song to your movie.

Time-lapse / Strobe Effect : Easily create cool time-lapse or strobe effects from a series of photos. Capture consecutive images of that evening sunset or rising tide every few seconds over the course of a couple of hours and turn these images into a time-lapse movie.

Learning resources : Access a range of learning resources from within the Help menu. Search the latest Help, download the User Guide (PDF), or watch one of the many video tutorials in the Discovery Center. PLUS, get a free 30-day all-access pass to StudioBacklot.tv! Learn from videos, tutorials and access the royalty-free stock library.

Performance & compatibility
Optimized for 6th Gen Intel chips : Enjoy your video editing software's enhanced speed and performance thanks to optimization for the latest chip technology.

HEVC support : Compatibility is enhanced with new support for HEVC (H.265) import and export, which offers a higher compression rate, better quality and a smaller file size.

XAVC S : Work with XAVC S, a new standard for video cameras based on MP4-AVC/H.264, and get support for resolutions up to 4K 3840 x 2160.

Create videos for mobile devices : Share movies anywhere with full support for iPad, iPhone, iPod touch and Sony PSP, as well as Windows and Android smartphones. View your video masterpiece no matter where you are.

Complete disc authoring + video editing software in one : Use comprehensive built-in disc authoring tools to save your videos and photo slideshows to DVD, AVCHD or ISO disc image in one complete video production workshop.

Ready to share : Upload your video directly to your favorite websites, including YouTube, Vimeo, Facebook and Flickr directly from VideoStudio, burn to disk, or save in a variety of formats different sizes and formats.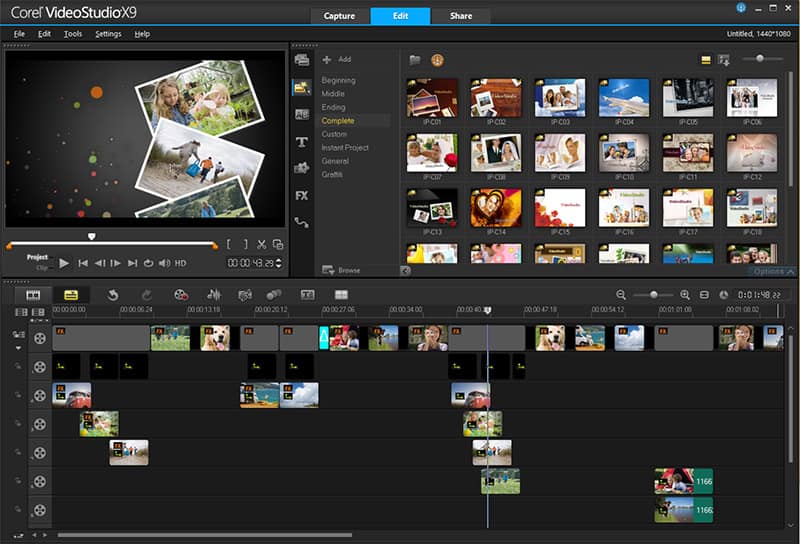 Warning! You are not allowed to view this text.
Tags : Corel VideoStudio Pro