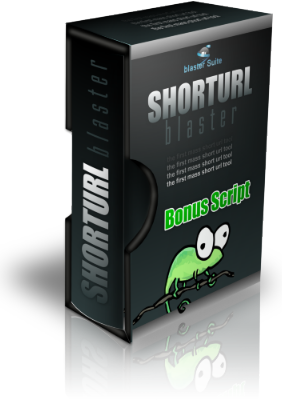 Name :Short Url Blaster

Version : 1.09

OS : Windows

Type : Shorten Tools, Cloak Links

Price : $27

Homepage : SalePage

Whether you're new to Internet Marketing, or a veteren with years of experience in the field, implementing & cloaking affiliate links is a NECESSITY for any successful Marketing campaign.
You never want to post or advertise products/services with obvious intention of marketing.
Not only does this discourage potential buyers from purchasing/clicking through to your suspicious link, but it also reflects negatively on the product or service you're promoting, many times, causing complaints on your individual Affiliate campaigns. Using ShortURLBlaster's custom URL strings, you can create 100's or 1000's of redirects to Landing Page A, split test Landing page A's results with a unique set of redirects pointing to Landing page B.
This allows you to test campaigns on a volume scale, whereas directly posting Landing Page A & Landing Page B can lead to diluted or innacurate campaign results due to flagging / banning / ghosting of your links.
Features
Create UNLIMITED amount of redirects on all supported services

Custom URL specification for various supported services

Macro support for custom specified URL's on supported services

Import support for mass short url generation (links to shorten)

Link "Live" Status Checking & Verifying.

Export Support (.txt/.csv) for all shortened links

Global Proxy support (Public / Private)

Error Handling support for failed creations / error reporting

Warning! You are not allowed to view this text.
Tags : Short Url Blaster