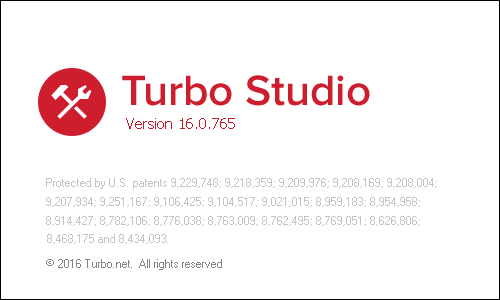 Name : Turbo Studio

Version : 17.0.794.1

OS : Windows

Type : Bot Creator

Price : $1950

Homepage : SalePage

Turbo Studio is an easy-to-use graphical editing tool for creating and editing Turbo container environments.
The latest version of Turbo Studio includes direct integration with the Turbo.net Hub, an installer based wizard alternative to snapshots, the ability to create portable container (single EXE) outputs, new subscription-based licensing, as well as support for the latest Windows operating systems.
Features
Eliminate Installs
Launch Applications with No Installs
Give users an instant launch experience and reduce support costs by packaging all application files, settings, runtimes, and components into a single package that runs instantly with zero setup.
Eliminate .NET and Java Dependencies
Execute .NET, Java and AIR-based applications with no separate installation steps or runtime versioning conflicts. The Turbo virtual machine supports all versions of the .NET Framework and Java, including .NET 4.0, 4.2, and 4.5.
Execute on Locked-Down Desktops
Boost security by locking down desktops and deploying on clean base images. Turbo allows all of your applications to work properly without administrative rights or access to privileged system resources.
Eliminate Component Failures
Turbo eliminates application failures due to missing or mismatched component versions by packaging runtimes and other application components together with dependent application executables.
Run Legacy Applications on Windows 8
Turbo allows legacy applications such as Internet Explorer 6 to run properly on new operating systems such as Windows 7 and 8, reducing the cost and risk associated with operating system rollouts.
Dynamic Sandbox Isolation Management
Dynamic isolation management allows virtualized applications to run both in complete isolation or in shared virtual environments with other applications, allowing data and settings to be shared between related applications.
Easy to Understand
Application Templates
The Configuration Wizard provides templates for popular applications. Automatically virtualize common applications such as Microsoft Office, Internet Explorer, Adobe Creative Suite, Firefox, and Chrome.
Desktop Import Wizard
Studio's unique Desktop Import Wizard scans the local desktop, automatically identifies installed applications, and then creates a virtual machine configuration using settings and content from the local desktop.
One-Click Configuration of .NET, Java, and AIR
Studio provides single-click, automated virtualization of popular runtimes and components such as the .NET Framework, Java, and Adobe AIR. Turbo supports all versions of the .NET Framework, including .NET 4.0, 4.2, and 4.5.
No Infrastructure Changes
No client installation, device drivers, or other infrastructure changes are required. Turbo is fully compatible with existing desktop management infrastructure such as Microsoft System Center, LANDesk, Altiris, and KACE. Or, distribute and manage virtual applications with the included TurboServer.
Import Existing MSI and ThinApp Packages
Studio features one-click import of existing MSI setup, VMware ThinApp, and Novell AXT packages. Or, access thousands of pre-packaged applications on Turbo.net.
Setup Snapshotting
Configuring even the most complex proprietary application is as easy as setting it up on a clean machine. Studio's snapshotting feature takes "before and after" images of your system and automatically constructs the virtual application configuration.
App Virtualization Engine
#1 in Compatibility
Turbo is the only virtualization engine in its class to support virtualization of both 32- and 64-bit applications; system services and databases such as SQL Server; and advanced software technologies such as DCOM and SxS.
Fully User-Mode Virtual Machine
Fully user-mode implementation eliminates the need for device drivers, reboots, and administrative privileges. Deployment models include standalone EXE, MSI package, and HTTP-based delivery via the Turbo browser plugin.
Run Legacy Applications on Windows 8
Turbo allows legacy applications such as Internet Explorer 6 to run properly on Windows 7 and 8, reducing the costs and risks associated with operating system rollouts and assuring business continuity.
Multi-Platform Capabilities
Platform merge allows virtual application behavior to be customized on a per-operating system basis while distributing a single, universal executable. The Turbo virtualization engine automatically resolves incompatibilities between multiple operating system variants.
Advanced Sandbox Isolation Management
Dynamic isolation management allows applications to run both in complete isolation or in shared virtual environments. Sandbox sharing enables data and settings to be shared between related applications.
Unprecedented Performance
Turbo virtualization executes applications at nearly the same speed as native binaries. No host operating system is required, dramatically reducing payload size and providing dramatically superior performance relative to hardware-level virtualization.
Publish Anywhere
Create Standalone EXEs
Standalone executable generation packages all virtual machine and application payload content as a single EXE file that can be deployed using any standard file delivery mechanism or existing desktop management infrastructure.
Integrated Application Management
Included TurboServer allows applications virtualized with Studio to be deployed, patched, and managed on your intranet. TurboServer is over 20 times more scaleable than RDP-based deployment.
Bring Your Application to the Cloud
Included Turbo.net application hosting allows you to publish directly from the web. Launch applications instantly from your web site, syndicate on blogs and social networks, or deploy Software-as-a-Service (SaaS) offerings.
Generate MSI Setup Packages
Virtualized applications can be deployed using traditional MSI setup packages. Studio-generated MSIs perform binary installation, Start Menu and desktop shortcut creation, file association mapping, and uninstalls.
Desktop Registration
Scriptable TurboReg shell registration tool configures all Start Menu shortcuts and file associations. Broadcast applications to desktops using scripting in conjunction with existing management infrastructure.
Deploy on USB Flash Drives
Enable mobile work scenarios and create compelling marketing materials by embedding your application on portable USB flash drives. Settings migrate automatically on the portable storage device.
Comprehensive Platform
Package Once, Deploy Everywhere
Multi-modal distribution allows virtualized applications to be deployed as standalone EXEs and MSIs, in private clouds using TurboServer, or over the Internet with Turbo.net.
Build process automation
An available console build utility simplifies scripting and VS.NET build process integration tasks. Virtual environment configuration is fully programmable via a simple XML specification language.
Leading Technology Provider
Turbo technology is used by industry-leading educational, entertainment, financial, government, health care, and information technology organizations such as Autodesk, Bank of America, Novell, and the US Army.
Commerce Enabled
Offer web-based evaluations and online purchases using the available Turbo.net commerce system. Embed launch buttons directly into existing web sites or syndicate on blogs and social networks.
Support for All Major Windows Operating Systems
Turbo supports application execution on both 32- and 64-bit versions of all major Windows desktop and server operating system platforms, including Microsoft Windows® 8, Windows® Server 2012, Windows® 7, Windows® 7 Server, Windows Server® 2008, Windows® Vista, Windows Server® 2003, and Windows® XP.
Warning! You are not allowed to view this text.