Name : Answers Chief

Version : Elite v1.0.15

OS : Windows

Type : Yahoo Marketing Tools, Yahoo Answer Bot

Price : $317

Homepage : SalePage

Dominate Yahoo!Answers, still get great traffic even you can't post a link.
Features
Get great targeted traffic and make money for you :)

Multi-Threads to create accounts, answer questions, post questions, vot, select best answer and so on. All can be multi-threads.

Register and save accounts with proxy, later use same proxy to do other operation like answer question, vote, etc.(This will protect your account got banned very well)

Auto-Vote function to upgrade your accounts to level 2 safely and easily.

Real-time question watch and answer them at once to get instant traffic.

Post yourself questions and answer them, then select them as best answers for long time traffic and SEO

Manage and run multi-campaign at the same time.

All-round statistics system to save and view your campaign running results.

All basic functions like in old Answereye (Batch-post answers and questions, Select best answer, Question search, Real-time question watch, Real-time question answer, vote, etc.)

Auto-spin your answer with Free SpinnerChief API

Full account manager - Create, Check, Import and Export

Bind proxies to accounts.

Random name generator choose from male/female.

Debug mode

Multiple answers campaign mangement with spin answer + source

Token/Message Spinning

Add 'Delay' During Posting

Vote Answer as 'Best Answer'

Import/Use Pre-Written Questions/Answers

Integrated Proxy Support with Auto Rotation

Detailed Usage Guide/Documentation

Newbie Friendly Tutorial Videos and Coaching

Free Lifetime Updates (LOTS to come)

Free Lifetime Support (Live Chat)

Quick access toolbar

Auto-Captcha Solving.

Much more...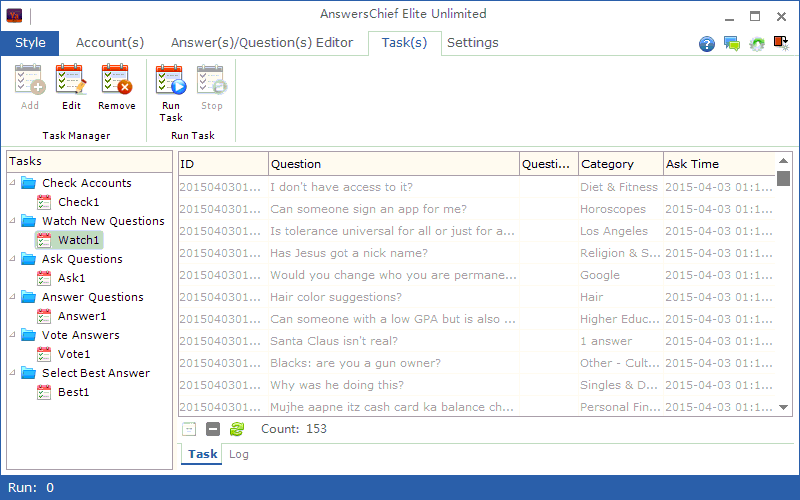 Warning! You are not allowed to view this text.
Tags : Answers Chief, AnswersChief