Name : Email Extractor Pro

Version : 6.0.3

OS : Windows

Type : Email Marketing Tools

Price : $44.95

Homepage : SalePage

Email Extractor is free all-in-one email spider software. It is a lightweight and powerful utility designed to extract email addresses from various sources: local files, websites, search engines, etc. It is a great tool for creating your customer contact list using your mailbox data.
Email Extractor is a great helper in conducting email marketing campaigns. Every email campaign requires large lists of email addresses. It's almost impossible to extract the email addresses manually. Email Extractor is a perfect tool for building your customers' email lists using the files from your mailbox. You can download free email extractor trial and test if it works for you.
Email extractor is the fastest email harvester on the Web. Unlike other email harvesters, Email Extractor possesses all essential features of extraction software: it's extremely fast, easy in usage, and feature-rich.
Features
It is developed to collect e-mail addresses and user names from various sources:
Search Engines: Google, Yahoo, MSN, etc.

Website: scan all pages of the specified website

Url List: scan list of specified web pages

Email Accounts: scan email accounts

Computer: any local file, folder, drive or CD-/ DVD-Rom

Website Owners Info: extract domain owner's data

MS Outlook Express

Network

Netscape Messenger, Eudora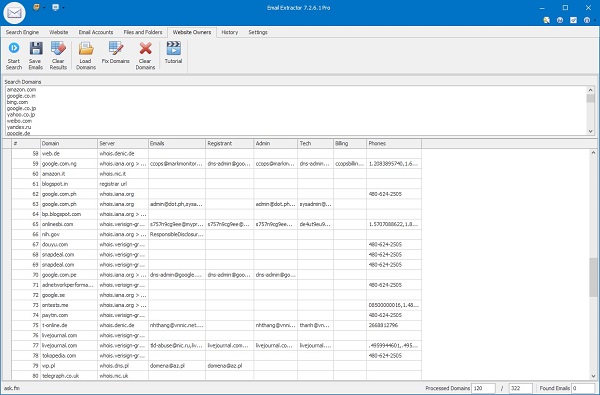 Warning! You are not allowed to view this text.
Tags : Email Extractor