Name : URL Profiler

Version : 2.2 Server Agency

OS : Windows

Type : Scraper Tools

Price : $40

Homepage : SalePage

A powerful tool for SEOs to quickly audit links, content & social data
URL Profiler doesn't just do one task; it can be configured to retrieve a large array of link, content and social data for almost ANY task. Thousands of URLs at once - with no limits or constraints - just the data you need, when you need it.
Features
Content Audits : Get deep insight into your content and export it all into a single spreadsheet.

Link Prospecting : Lightning fast prospecting with all your favourite data, all in one place.

Penalty Audits : All the data you need to quickly classify links and get penalties removed.

Social & Contact Data : Collect an abundance of social and contact data to turbo charge your outreach.

Domain Research : Domain intelligence to help you find website authority, relevance & ownership footprints.

Backlink Checker : Quickly checks your backlinks and returns in depth anchor information.

Site Types : Scans the site to identify the type of site and software used.

Link Metrics : Downloads bulk link metrics from Mozscape, Majestic SEO and Ahrefs.

Email Harvesting : Scrapes, harvests and extracts website email addresses.

Readability Score : Calculates content quality statistics and 5 separate readability scores.

Social Accounts : Finds Twitter, Facebook, Google+, LinkedIn and Pinterest account links.

Social Shares : Retrieves social engagement metrics for domains and URLs.

PageRank : Quickly checks thousands of URLs, without any proxies.

Google Analytics : Connects directly to the Google Analytics API.

Whois Emails : Fetches unlimited whois email addresses without captchas.

IP Address : Fetches the domain's server IP address and country code.

PageSpeed : Connects to Google's PageSpeed service to fetch scores & statistics.

HTTP Status : Checks HTTP Status for each URL and returns end result for redirects.

Copyscape : Retrieves duplicate content and plagiarisation issues.

Robots Access : Checks search engine access using Robots and Canonical information.

Alexa : Retrieves traffic, rank and link data, without any proxies.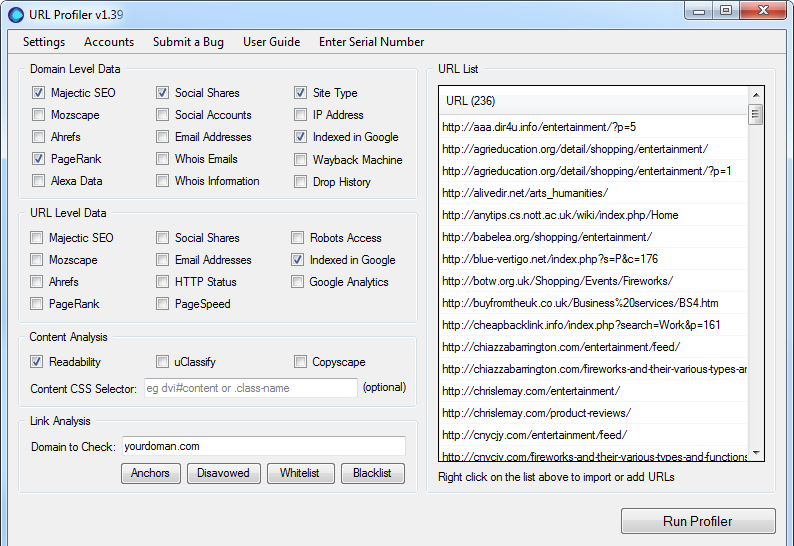 Warning! You are not allowed to view this text.
Tags : URL Profiler