Name : Yahoo Email Address Grabber

Version : 2.5.0.11

OS : Windows

Type : Email Extractor Tools

Price : $40

Homepage : SalePage

Yahoo Email Address Grabber tool has the capacity to fetch email ids in bulk from Yahoo account. The tool can harvest ids from folders like Inbox, sent, draft, etc. easily. To get email ids from these folders you just need select the choice given & you will be catered what you need.
The work does not stop here. You can even get email addresses from fields like To, From, BCC, CC, etc. For this step too you have mark the options provided. So you can harvest ids from all parts of your account without any difficulty. This email id grabber has numerous choices to fetch addresses. It even has an option to ban duplicate ids from getting downloaded. For that you will have to mark option 'Do not list Duplicate Emails'. These choices save huge energy & time of yours. You have choice to save them either in .TXT or .CSV according to your convenience. Thus this tool can extract email ids for you removing duplicate ones & even saving them for you. This Gmail id extractor is an effective software that helps a lot in getting addresses. It has the easiest framework that makes it simple to operate. These features, speed & accuracy make it the best Gmail email id extractor at this acceptable price.
It works at an amazing speed & accurately provides what you demand. All the email addresses that are extracted can be saved in both .TXT & in .CSV format. So that you can utilize them in future. It is the best Yahoo email id extractor in the field at this reasonable price.
Features
It can extract email ids from Yahoo account.

The tool can extracts email ids from folders of Yahoo mail like Inbox, sent, etc.

Even addresses from fields like To, From, CC, BCC, etc. can be extracted easily.

Duplicate IDs can be restrained from getting downloaded with provided options.

The mail ids harvested can be kept in both .CSV & in .TXT format.

It finishes the job precisely in the shortest span of time.

The format has been made in a way that users can easily apply it in daily work.

It's the best tool to fetch email ids from Yahoo account.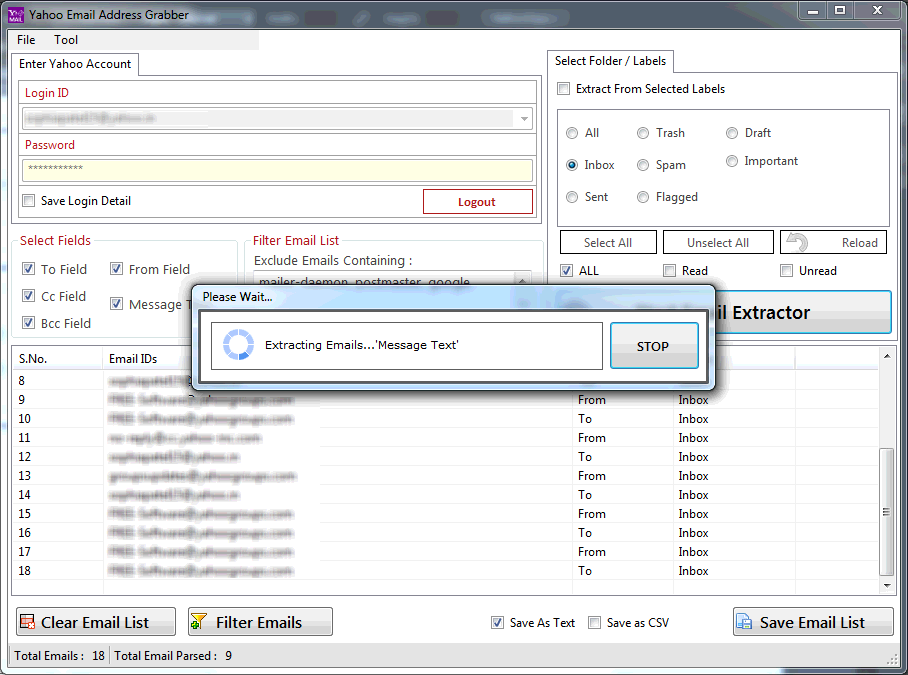 Warning! You are not allowed to view this text.
Tags : Yahoo Email Address Grabber