Name : Inspyder Backlink Monitor

Version : 5.1.5 Standard

OS : Windows

Type : Backlink Management Tool

Price : $79

Homepage : SalePage

Backlink Monitor 5 - The world's only multi-tier backlink management software! Tracking your tiers couldn't be easier.
Backlink Monitor is the easiest way to track and manage your website backlinks. Just enter your backlink URLs and let Backlink Monitor check the status, anchor text, IP address and PageRank for you. It couldn't be easier. Best of all, Backlink Monitor works with multiple backlink tiers! Stop working hard and start working smart with Backlink Monitor.
Backlink Monitor is designed to be used along side your day-to-day link building activities. As you build backlinks you'll paste the new links into the main Backlink URLs list. You always want to be adding to this list (never remove from it directly, except by using the "Remove Dead Backlinks" option). This way, it becomes your master list of working backlinks that have an SEO influence. It becomes particularly valuable during multi-tier link building because it finds and removes broken tiers, so you won't waste time building new links to pages that don't influence your website's ranking.
Features
Easy to Use : Just enter your website URL, your backlink URLs and click "Go". It couldn't be easier!

Multi-Tier Backlink Checking : Enter all your backlink URLs and let Backlink Monitor sort out the hierarchy

Check PageRank : Backlink Monitor automatically determines Google PageRank for each domain and backlink page

Check Indexed Status : Backlink Monitor can also check in Google's index to see if your backlinks are included

Low Cost, No Limits : Backlink Monitor has a low one-time cost, no matter how many backlinks you have or how often you use it!

Indexing Service Integration : Submit your backlinks to the most popular indexing services directly from Backlink Monitor

Scheduled Reports : Configure Backlink Monitor to check-up your backlinks daily, weekly or monthly and email you the results

CSV Reports : Export Backlink Monitor's results to CSV for Excel or input into other SEO tools

Backlink Index Checker

Backlink PageRank Checker

Bulk Backlink Checker

Monitor Website Backlinks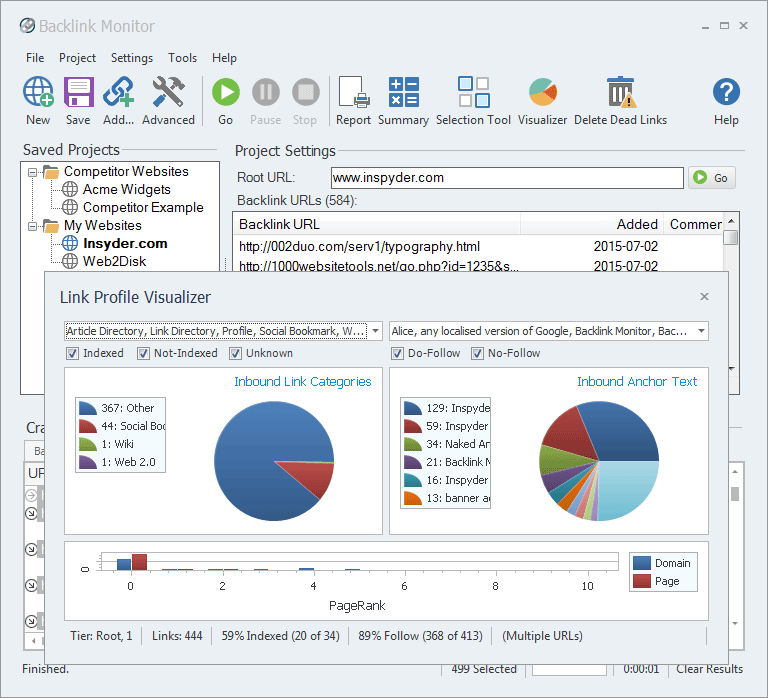 Warning! You are not allowed to view this text.
Tags : Inspyder Backlink Monitor