Name : ChrisPC Anonymous Proxy

Version : Pro 8.40

OS : Windows

Type : Proxy Tools

Price : $30

Homepage : SalePage

A powerful software with a friendly user interface that allows you to surf anonymously online and enjoy watching free TV and on-demand television when living abroad, traveling, on business or vacation.ChrisPC Anonymous Proxy Pro is the privacy tool that anybody would need to use to protect their online experience. Browsing, buying online, watching online TV channels or reading online newspapers are part of our daily life. What is important to know is that when we connect to the Internet we are exposed, our buying/browsing habits and our confidential data are at risk. Of course there are several means and levels of security you can take online, like the ones you have for your home: you have a door lock, you have even a dog barking and you may have also a security system, surveillance system and so on.
Every person needs a different level of protection for his/her privacy. Therefore you are in charge with deciding the level of protection you need. You should be aware of this: when connected to the Internet your location and browsing habits are exposed to the accessed websites, because they know your IP/country/city/street that you are accessing from. If you don't mind, that is fine.
But if you would like to protect your privacy and have a low profile on the net, you can start with ChrisPC Anonymous Proxy Pro which can help you in several distinct ways.
Features
Surf anonymously online : Change your IP address with 1 click

Proxies from more than 50 countries : Access blocked/restricted websites in your country/region by using a proxy from another country

Automatically connect to proxy : The software can be configured to start on Windows boot and connect to a proxy

Support for all major web browsers : Internet Explorer, Chrome, Firefox, Safari and Opera

Multilanguage Interface : The software is available in English, French, German, Italian and Romanian

Unblock Websites Mode : Bypass Internet Censorhip and get access to sites that are blocked or filtered in your country

Expat Internet Browsing Mode : Unblock access to geo restricted video and entertainment websites like: HULU, Netflix, CBS, ABC, Wilmaa, TF1, M6, WAT and more

Protect your privacy : Block tracking scripts, web counters and strip data from HTTP headers to protect your anonymity *

Block ads while surfing anonymously : YouTube will show pure content without the annoying publicity which is usually customized on your search interests *

Advanced proxy connection settings : You will be able to filter the proxies by country and minimum speed

Fast anonymous proxy connection : Use the fastest proxy servers available for your anonymous connection

Select the IP address to browse the net : Choose between a Random IP or a new IP address, which you will use to navigate on the internet

Customize Unblock Profiles : Gain access to sites that are blocked or filtered in your country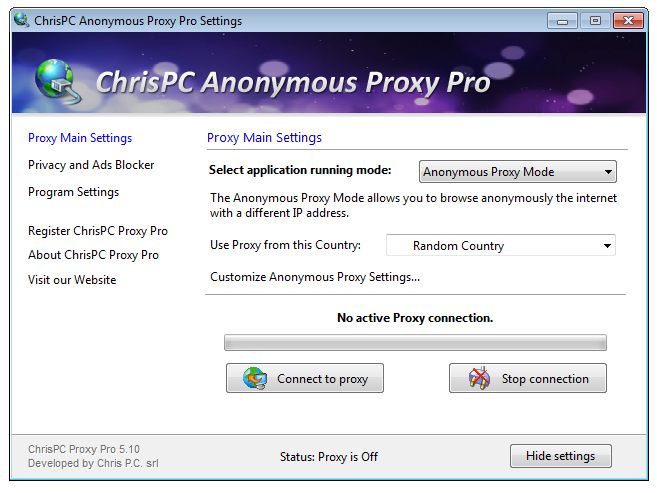 Warning! You are not allowed to view this text.
Tags : ChrisPC Anonymous Proxy Pro