Name : Woozone - WooCommerce Amazon Affiliates - Wordpress Plugin

Version : 9.0.5.0

Type : Amazon Plugin

Price : $33

Homepage : SalePage

Advertise Amazon products on your Woocommerce website and earn advertising fees from Qualifying Purchases.
You can also receive advertising fees from all products your visitors buy, visit, not just the products you advertise thanks to our 90 days cookie feature.
Also, our On Site Cart feature allows your customers to checkout with multiple products on Amazon, and that means multiple commissions for you!
Features
Works as plugin on any WordPress Install.

Compatible with any WordPress / Woocommerce Theme

You can have Amazon Products and Simple Woocommerce Products on the Store in the Same Time (we've made a special verification and the products don't conflict into the Cart Checkout Page)

Choose from any Amazon Location - Worldwide, Amazon Germany, Amazon United Kingdom, Amazon Canada, Amazon France, Amazon Japan, Amazon India, Amazon Italy, Amazon China, Amazon Spain.

90 days cookies feature

On Site Cart feature!

Prices setup

Products Variations

Default publishing- import the products as Published or Draft.

Select how many images to import for each product

Select if you wish to display shipping availability

Select if you wish to display Coupones - special offers & discounts

Image Import type

Automatically Content Spinner

ASIN GRABBER Module

Products into Posts

Products Stats

Images names - Product title or Random number - This is great for SEO

Cross Selling Items

Images gallery in product description

Amazon Reviews Tab

Setup Amazon Access Key ID and Secret Access Key

Setup your affiliate ID's

Setup Main Affiliate ID

One second import!

Mass Import products using the CSV module.

Keep products updated using the Synchronisation Module, you can update Prices, Titles , Reviews, Buy Urls, Descriptions and SKU

Setup / Backup Module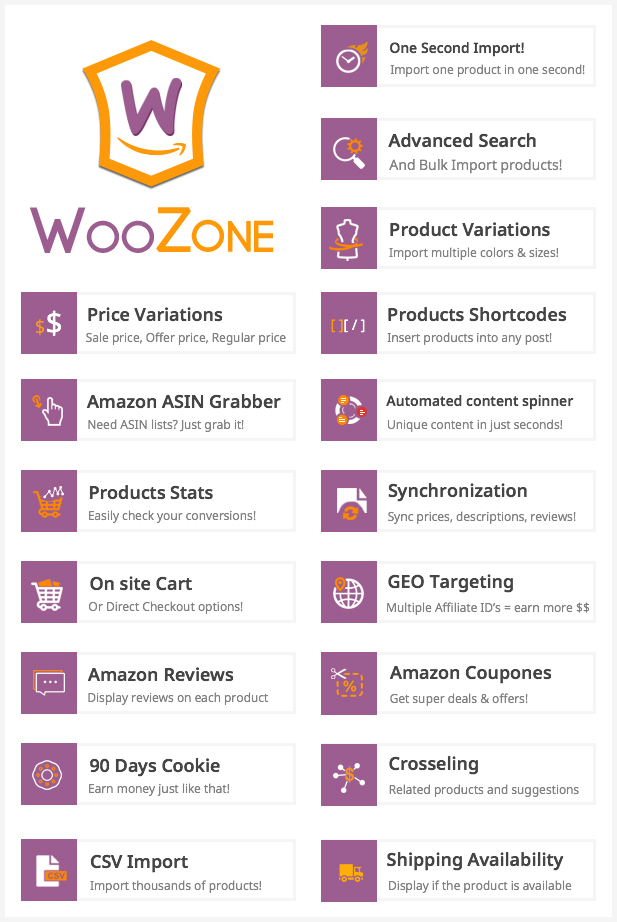 Warning! You are not allowed to view this text.