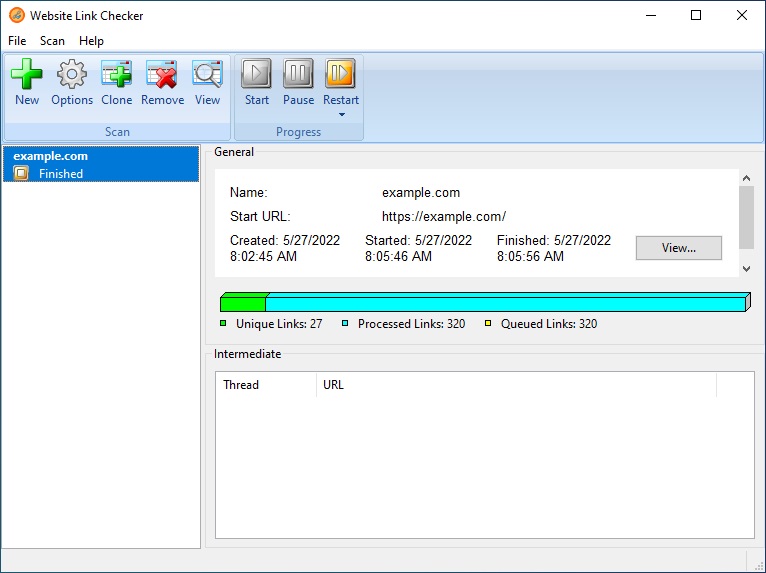 Name : Fast Link Checker

Version : 2.2 Build.608

OS : Windows

Type : Misc

Price : $99

Homepage : SalePage

Fast Link Checker is a tool used for searching sites for broken links. It begins checking from the starting page and goes through all pages one by one until it checks all links on the site. If Fast Link Checker finds a broken link, it shows its position in the document, the cause why it does not work and a hint how it can be fixed. Fast Link Checker can check links to all pages both on current and external sites, the availability of documents, images, scripts, style sheets and other objects linked to pages. It can check links on the entire site, on one of its pages or in one directory. Fast Link Checker can check links in files available via the HTTP, HTTPS, FTP, FTPS and RTSP protocols on sites hosted by any properly configured web server. Furthermore, Fast Link Checker supports password-protected sites and FILE protocol, which allows checking links in HTML files without accessing a web server
Features
Small and easy to use : Yes. Fast Link Checker doesn't take much of server's resources. It can be run as a standalone application without any user's interference. The scope of its activities includes link checking internal and external websites. Each component such as script, image or stylesheet can be checked separately. Fast Link Checker is utilizing a one of a kind algorithm which allows multi-threading tasks at the same time. This results in faster processing and drastically improves effectiveness.

Provides user-friendly reports on found broken links : Everything given like on a tray! Fast Link Checker saves detailed reports about numerous things. Everything regarding performed scan. Reports can be remotely saved in various file formats. From excel through xml to plain text. Reports can be generated for the entire website or just single pages.

Generates Site Layout or Site Map during site check activities : Fast Link Checker saves special site layout or site map which helps end-user in understanding the content structure as well as improves better understanding of broken link directory.

Allows saving reports to a file or sending them by email : Fast Link Checker offers diversity in the way user wants the reports to be generated. When the software finishes the scanning process it generates a report which then can be saved on user's computer or sent to a specified email adress. The reports come in multiple file formats such as html files, excel files, tables with advanced filtering system or just plain text.

Checks links to pages on both current and external sites : Our software can scan the inbound links within website as well as hyperlinks to external resources or websites. All that just on a single snap of your fingers.

Checks links on the entire site, on one of its pages or in one directory : When we were designing Fast Link Checker, our aim was to create a software elastic and effective. We're proud to announce that both of these goals have been achieved. Fast Link Checker allows users to pick only particular directories, one of the website's pages or entire website during the scanning process.

Checks all static and dynamic HTML pages : It doesn't matter if your webpage is a static page with never changing content or a one with dynamically generated elements, Fast Link Checker will take care of all the hard work.

Checks links in files available via the HTTP, HTTPS, FTP and FILE protocols : Fast Link Checker can check links available via the HTTP, HTTPS, FTP, FTPS and RTSP protocols on sites hosted by any properly configured web server. This means increased flexibility.

Checks links in password-protected files and directories : Password protected sites are not a problem for Fast Link Checker. It supports the several HTTP authorization methods.

Checks links to media content broadcasted through RTSP protocol : Videos, images, sliders and other media content can be easily scanned by Fast Link Checker through special RTSP protocol.

Downloads and checks several pages at a time : Multi-threading is one of the best parts of Fast Link Checker. Sophisticated algorithm guards the fast processing time as well as allows the program to perform multiple scanning operations at the same time.

Supports lots of the most common charsets : Fast Link Checker is characterized by it's ability to easily adapt to different scanning situations. It's ready to handle most common charsets.

Customizable user-agent identification, identifies itself in the user-agent field so you can see its visits in your log : No more confusion! See when Fast Link Checker have performed a broken link scan as well as determine what directories did he scanned.

Obeys voluntary robot guidelines, including the robots.txt standard for exclusion of files : The software understands and respects the guidelines included in robots.txt file which means that it won't scan those directories that are excluded from indexing.

Supports HTTP and SOCKS proxy servers : Fast Link Checker can work through proxy servers. It supports HTTP and SOCKS type of proxy servers.

Includes command line tool that can be launched from the command line or from batch files : Our program can work as a standalone application or be triggered from batch files. It's command line tool preserves server's resources.

Free Basic Technical Support by email : Our free support won't let you down. We're avaible at any time, whenever a problem occurs. Software update and additional support services are provided on the subscription basis.

Warning! You are not allowed to view this text.
Tags : Fast Link Checker