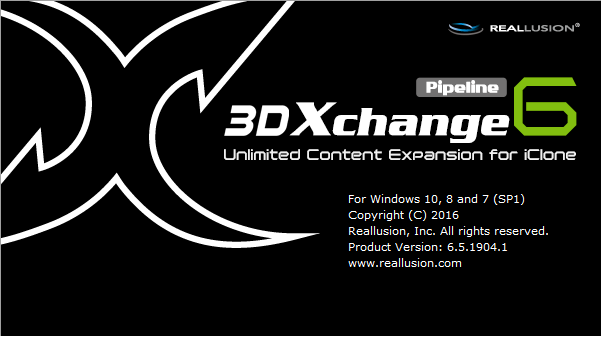 Name : 3DXchange Pipeline

Version :7.8.5111.1

OS : Windows

Type : 3D Editor

Price : 499

Homepage : Salepage

3DXchange is a robust, streamlined conversion and editing tool that connects iClone to a universe of 3D content. Users are able to import bi-ped, animated skin-bone characters and their animations for use in iClone. They can also export iClone characters and animations to external 3D applications and video game engines. Moreover, 3DXchange 6 is enhanced with an optimized conversion performance and editing environment, ensuring that you an even faster and better user experience!
(Please Note: 3DXchange 6 is only compatible with iClone 6, and there is no backward compatibility.)

Features

Bring in 3D models to iClone as 3D Props

- 3DS, OBJ, SKP for static models

- FBX for animated 3D props with multiple motion clips

(Please take note that only 3DXchange PRO and Pipeline support FBX, the Standard version does not.)

Bring in bi-ped characters and make them ready for iClone iMotion

- one-click characterization for bone-skin characters

- one-click profile for Human IK, Biped, or DAZ Genesis 2 rig

Bring in non-human characters and their corresponding motion clips

- animals, creatures, etc

Facial Rig for Lip-sync and Facial Puppet Animation

- full facial bone/morph mapping

Import human motion files

- BVH, FBX and motion capture data

- Retarget motion for different body-scale characters

Export 3D Models

- OBJ (static object, replace mesh, paint & sculpt, create face morph data)

Export Character and Motion

- BVH (motion data)

- FBX (bone-skin character, motion data, multi-material data)

Export FBX - modification from any character and cloth in the project

Character Creator cloth design from FBX template

Export Alembic (.abc) format for baked iClone animations

Merge Identical for 3D models composed with multiple meshes sharing identical materials

Interactive lighting & 4 Scene Mode selection

Scene Tree Show / Hide

Content Export License - only for Pipeline version users

Warning! You are not allowed to view this text.
Tags : 3DXchange 6